High-Quality Scooter Control Cables & Wires!

With the fast-changing design of modern scooters, using high-tech control cables and wires is essential for protection and comfort. Silco Control Cables are designed to make the scooter run more smoothly while still complementing the product's features. Our Scooter Control Cables are very sturdy and tear-resistant.
These Control Cables are made of high-quality raw material sourced from reputed suppliers and demand little input power. The driver can monitor different vehicle functions using these cables.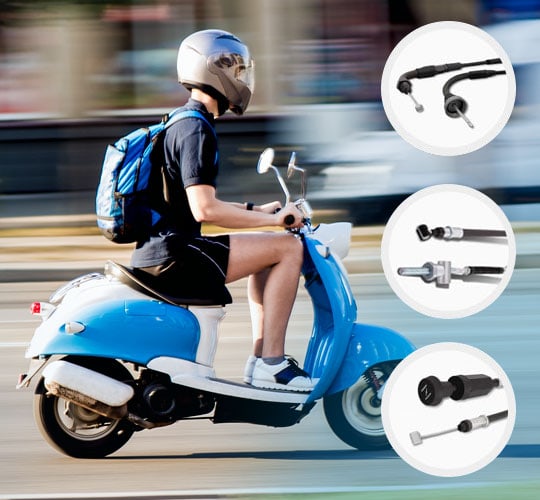 Our Wide Range Of
Scooter Control Cables!
We provide a great variety of Scooter Control Cables. They are specifically designed to meet the needs of scooters.
Throttle control, brake engagement, power take-off engagement, engine choke, clutch engagement, drive engagement and speed selection, mechanism lockout, and release are all functions performed by our control cables.
Clutch
Cable
Clutch Cable is a long wire to link the pedal with the metal arm of an embrace platform for mounting or disengagement of the mechanism by simply pushing or pressing down a foot lever on the motor wheel and transmission assembly. It is constructed from thin steel components that are rigidly braided together to form a solid rope-like framework. We provide clutch cable for scooters made with modern machines that ensure a tight tolerance between the braided components. It has high tensile strength, allowing it to withstand massive forces and ensuring a longer service life.
Throttle and
Accelerator Cable
Treated as a simple or insignificant component of scooters, damaged or ill-maintained throttle cable can lead to painful riding harassment you would want to ignore anyhow. Now say goodbye to the damage done to your scooter's throttle cable with corrosion, crack, and kinks for a longer time with Silco cables and wires. Our scooter accelerator and throttle cables are reviewed under the oversight of specialist quality analysts to ensure better quality requirements and unrivaled results. We make our products with quality materials and guarantee their durability.
Brake
Cable
The brake cable attaches the brake lever/pedal to the brakes on the wheels. These are in charge of activating and disengaging the brakes on your scooter. The raw materials used to prepare the provided lot are purchased from reliable suppliers. Furthermore, we only obtain it after a thorough standard examination. We are well-known Suppliers of Rear Brake Cables and are well-known for the excellent variety of items we have.
Choke
Cable
Our Choke Cables for scooters are reviewed to ensure their consistent quality levels and unequaled performances under the guidance of experienced quality analysts. These Cables are manufactured as per OEM specifications and are 100% load tested. Through our excellent logistics system, we can quickly meet the buyers' urgent and large-scale requirements. We have a large warehouse for secure storage up to the last shipment. We ensure that delicate goods are routinely packaged and packaged with leading technology and integrated processes.
Speedometer
Cable
The range of scooter speedometer cables that we offer are easy to install, perfectly balanced, have accurate fittings, and long life. They are made of high-quality materials, which improves their overall quality and efficiency. Our quality auditors' assistance allows us to obtain quality-approved raw materials from accredited suppliers. As a result, we guarantee that our goods are of the highest possible consistency.
Pro Tip:
The control cables can be worn and damaged over time resulting in a chance of breaking. The cables should be replaced automatically if anything like this happens.
Why Should
You Trust Silco Cables?
Silco Cables is one of the leading cable assembly producers with exceptional performance. We are an accredited business ISO 9001:2015, with 15 years of experience and satisfied customers worldwide at the peak of our capabilities. We do everything possible to satisfy consumers' shared objectives with continuous added value. We have a stronghold in the market with our products being employed in major industries by reputed brands!
Our complete range is produced using high-quality primary material and specialized equipment for optimal quality. Essential characteristics of our products are precision measurements, high conductivity, flawless finishing, safe to use, flexibility, and longevity. In addition, we provide products in various personalized styles, sizes, and technological requirements to meet the needs of different customers.